2020 Endowment Campaign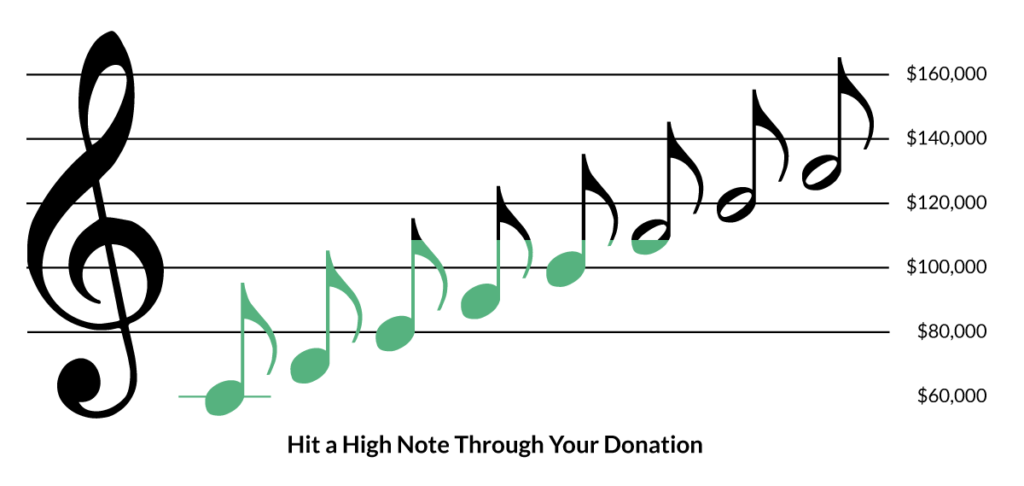 Opera For You!
Opera For Your Children!
Opera For The Generations To Come!
Our Endowment is set up to accept both restricted and unrestricted gifts, which are accounted separately, but managed and invested in an integrated program that takes advantage the total asset.
Unrestricted Endowment
This Strategic Reserve is administered by the LVO Endowment Committee and prudently invested by our investment manager. Rules are in place requiring a 2/3 vote of the LVO Board to allocate any Unrestricted Endowment funds at any time to meet exceptional current LVO needs. The size and timescale for donations and usage of these assets is flexible.
Restricted Endowment
This fund for Future Generations is never used directly by LVO but remains in the Endowment in perpetuity. LVO receives the investment earnings on the donated amount subject to a 2/3 Board of Directors approval. This fund is subject to the Uniform Prudent Management of Institutional Funds Act (UPMIFA). A restricted endowment may appeal most to those donating a large gift, perhaps a legacy gift, and who want to know that their donation will last forever.
Current Season Needs
Because LVO has exceptionally low fixed costs due to extensive staffing by volunteers, our current 2020-2021 season is financially stable. As soon as operas can again be performed at the Bankhead, we anticipate higher expenses and likely lower attendance due to health safety considerations. This is when our Unrestricted Endowment could kick in.
Needs Over the Next Several Years
LVO has a critical need for a permanent space to store costumes, furniture, and props, and to construct and store sets. LVO is leading an ongoing community project to build a Livermore Arts and Sciences Work Center to meet the operational needs of LVO, along with other arts and science groups that are currently sharing our temporary rented space, which is slated for eventual demolition. The new facility will solve our production space requirements permanently and will greatly benefit the entire Livermore Arts and Sciences community. Again, our Unrestricted Endowment could support this mid-term project.
Future Generations
Our Restricted Endowment should grow to sufficient size that it could provide a steady income to LVO within a decade.
Donation Possibilities
Appreciated Stocks. LVO has a brokerage account and has received stock gifts. Donated stock is liquidated, and no tax is paid by the donor or LVO.
Real Estate. A precedent setting gift of a home has just been made to LVPAC; such a gift to our Endowment would be historic, triumphant, and enduring for LVO.
From IRA Accounts. If you are over 70 ½ years old, Qualified Charitable Distributions (QCDs) up to $100,000 can be made directly from your IRA tax free; in addition, the donation amount can be deducted from your Required Minimum Distribution (RMD) reducing your taxable income. If you are under 70 ½, you can take some income from your IRA, give it to LVO, and then take the charitable deduction.
From 401(k)s and 403(b)s. At any age, QCDs are not allowed directly from these funds, but you can still contribute their income to LVO and make a charitable deduction. Or you can role some of these funds into an IRA tax free and then use QCDs as above. Please consult your tax accountant.
Legacy Gifts. You can include LVO in your estate plan and become a member of our Legacy League immediately, benefitting LVO in the longer term.
Monthly Donations. Our LVO on-line donation system can be used to make single or automatic monthly or quarterly tax-deductible donations to any LVO account that you select.